Darlton St Giles
Features and Fittings
Chancel
Altar and reredos
Choir stalls
Piscina in south
chancel wall
Piscina in north
chancel wall
Reredos
Stone, nailhead surround, with pierced trefoil arcading, columns and miniature capitals, biblical texts behind; 1863.
Choir stalls
Plain pine with pierced quatrefoil backs, front west rails with tracery; probably 1863.
Piscinae
In the south chancel wall is a chamfered, arched piscina, and in the north wall is a piscina with cusped arch, decorated spandrel, drip mould and label stops.
Nave
Pews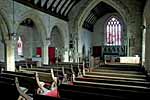 Pews
The nave and north aisle have uniform, plain pine pews, probably dating from the restoration of 1855.
Screen
The screen between nave and tower, under the tower arch. Timber with trefoil piercings, including in plain door. Glass panels above. Date unknown.
Font

The font and
candlesticks
Located in the north-west corner of the nave the font is octagonal with an eclectic mix of architectural ornament having quatrefoil panels and an octagonal base with trefoil blind arcading, and dogtooth moulding around the basin with nailhead between the base and bowl. It probably dates from the 1855 restoration.
Candlesticks
Two, rebated, plain wooden posts either side of the font; 19th century.
Pulpit and Lectern

Pulpit and lectern
Situated on the north side of the chancel arch, the pulpit is rectangular with bowed front projection, embellished with foliate ornament and corner shafts; 19th century.
Next to the pulpit, a wooden lectern with carved round shaft supporting wedge table with pierced decoration; 19th century.