Darlton St Giles
Monuments and Memorials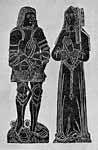 The brasses
The late medieval brasses, formerly in the chancel, have been moved to East Drayton.
There are two gravestones in the church which date from the 19th century. One is situated under the altar and is dedicated to the memory of William Calvert who died on 31 August 1837 aged 83. The other is located against the south wall of the tower and bears the inscription 'Esther, the wife of William Cavert, died February 22nd, 1825, aged 66 years'.
There is a single brass plaque at the west end of the nave, on the north side of the tower arch, that reads:
TO COMMEMORATE
THE AUTOMATION OF
DARLTON CHURCH CLOCK
OCTOBER 30th 1994
IN MEMORY OF
VICTOR JOSEPH WARRENER
"A faithful servant of this church"