Halloughton
St James
Churchyard
Raised above the village road and bounded by an ashlar stone wall on the south side, a descending bank on the east and fenced from an orchard and farmland on the other two sides, it is considered to be unusually large for the size of the church.
The churchyard is square in shape, and the building is located offset to the west side, and is close to the boundary there.

Grimm's view of church
Although Grimm's drawing depicts the church in a farmland setting, in 1698/99 a lease had been made between the prebendary Roger Altham and William Wolseley, the new lessee of the manor, whereby the latter was to enclose the one acre of land 'commonly called the Churchyard' by a stone wall and other fences. William Wolsely could take profit from the depasturage or could mow or graze the land when necessary but only for his own use. The present size of the churchyard is approximately 0.7 acres.
In 1952 the graveyard suffered some disruption. The Church Commissioners sold the standing timber, and some damage was done to the gravestones by timber merchants. As a result, it is believed that some of the gravestones are not in their original positions.
The following are of note:

Sir Frank Merry Stenton (1880-1967) hailed from an old Southwell family. He was raised at South Hill, the redbrick Georgian house on the opposite side of the A612 to the Brackenhurst campus. He was an eminent historian who became Vice-Chancellor of Reading University from 1946 to 1950. He lies with his wife Doris, also a Fellow of the British Academy, in sight of the house to which he retired in order that he might be buried in the churchyard of which he was so fond.

Another educationalist is Philip Lyth (1913-1995). He was the first Principal of the Nottinghamshire College of Agriculture when it opened in 1949 with just a handful of students. On his retirement Philip Lyth pursued his interests of local and natural history through lectures and publications and was a source of inspiration to many a Southwell resident and beyond. Brackenhurst is, in 2012, the Land based Studies Department of Nottingham Trent University with more than one thousand students.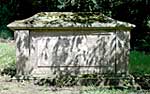 The very large and imposing tomb at the eastern end of the church is that of William Pogson a progressive farmer who occupied Manor Farm at the end of the eighteenth century. He is interred with his first wife Susannah Aldridge.
Burial Registers date from 1622.
The earliest legible tombstone is that of farmer Thomas Fisher who died 12th February 1727.