Halloughton St James
Stonework
Exterior
| | |
| --- | --- |
| Carved stone head | Carved stone head |
The church is made of ashlar and coursed rubble. Four stone blocks with carvings have been set into the south wall of the chancel.
Four small carved stone heads adorn the windows in the original thirteenth century east wall.
The roof is green Westmoreland slate, all courses diminishing upwards to the ridge.
Interior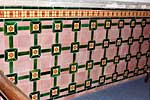 Tiles on chancel wall
The floor is covered with encaustic tiles.
Encaustic tiles cover the chancel walls to a height of 3 feet.
The porch floor is limestone slabs. Stone benches line west and east walls of porch.