Halloughton
St James
Monuments and Memorials
Brass Plaque on the chancel north wall, east end: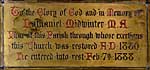 To the Glory of God and in Memory
of Nathaniel Midwinter M.A.
Vicar of this Parish through whose exertions
this Church was restored AD 1880
He entered into rest February 7th 1888.
See the Archaeology section for information on the medieval cross slab fragments in the south wall of the chancel.