Halloughton St James
Features and Fittings
Chancel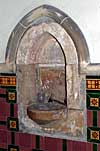 The south wall of chancel includes an arched piscina.
17th century altar table.
Nave

19th century circular font, with scalloped seating to a circular base.
The church fund box (which does not contain money) inset into the wall is in memory of the Ibbotsons who lived at Sycamore Cottage across the road. Albert was churchwarden from 1966 whilst his wife, Clara Eliza played the organ 1960-1977.
Remaining furniture 19th century.
External
The oak gate, 1980, to the churchyard is to the memory of Mrs Elizabeth (Ethel) Elliott of Holly Lodge.