Linby
St Michael
Archaeology
The church consists of nave, chancel, south aisle, vestries, north porch and west tower.
It was restored in 1878 and in 1914.
Exterior features
Interior features
Medieval Cross Slabs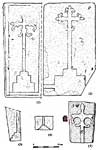 (1) On floor in north-west corner of tower, moved here after being found beneath floor in north-east part of nave in 2005. Floor stone, cross with quite crude fleur-de-lys terminals rising from stepped base, border panel but no sign of any inscription.
(2) Floor stone in the south aisle, similar to (1) but smaller and neater fleur-de-lys and a peculiar extension on the left of the stepped base, no border panel or inscription.
(3) Internal sill of the western of the two windows in the south wall of the south aisle, lower part of slab, stepped base and cross shaft.
(4) Internal sill of east window of south aisle, rather flattened stepped base.
(5) Lying loose against external face of east wall of south aisle. Upper part of slab with relief design, round-leaf bracelet cross with disc near head of shaft with incised rosette. The upper two bracelets have been cut away; top right later incised initials 'S W'.
Description and drawings of the cross slabs courtesy of Peter Ryder.