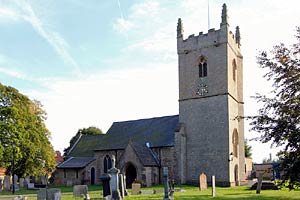 Linby
St Michael
Newark Archdeaconry
Newstead Deanery
Introduction
The present church was built in the 12th century, possibly on the site of the church hinted at in the Domesday Book. There are traces of Norman work in the north and east walls. It is built of local limestone.
Originally the church was a plain rectangle - chancel, nave and small tower. In the 14th century a south aisle was built. In the 15th century a porch was added and another stage to the tower. In the 16th century the porch was moved to the north side of the church and the Priest's door in the chancel was blocked up.
In 1878 the 18th century gallery was removed and the church re-pewed. Four bells were hung in 1826. An organ chamber was added in the north chancel wall and vestries built at the west end of the south aisle in the first half of the 20th century. In 1914 the interior walls were stripped of the old plaster and re-pointed. The south aisle was restored as a Lady Chapel in 1958 and 1972. In 1997, the organ chamber, vacated for some years when a new organ was installed in its present position, became the vestry and the old vestries, extended and renovated, became a Church Room. In 1998 when the bells were re-hung two further bells were added and a ringing gallery was also built. In 2002 there was extensive re-pointing of the exterior of the building.
Particular thanks to Andy Nicholson and Pat Richards for research on this entry
and to Geoff Buxton, Dr Chris Brooke and Andy Nicholson for the photographs