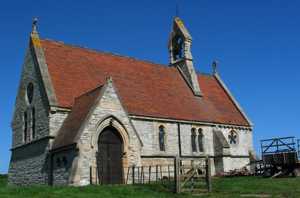 Moorhouse
Chantry Chapel of St Nicholas
Newark Archdeaconry
Newark and Southwell Deanery
Introduction
Moorhouse chapel stands alone in a field, approximately 2 miles East-south-east of Laxton, and has served for many years as a chapel-of-ease to Laxton parish church. The present building was constructed in 1860-1 in French Gothic Revival style by the architect Henry Clutton, and it replaced an earlier, medieval chapel which, in all probability, occupied exactly the same position.

The date of the medieval foundation is not known exactly but it was probably in the first half of the 13th century when Archbishop Walter Grey of York granted Robert de Lexington a licence to have a chapel in his curia (court) at Laxton, with a chaplain ministering there. Thus Moorhouse evidently started life as a private chapel to Robert de Lexington.

Fittings and memorials are notably few or absent; the only item of substantial note being the bell which is medieval and dates from c1240; it is probably the second oldest (after Littleborough) in the county.

There is no churchyard visible today, though it has in the past had boundaries. There is a group of archaeologically significant earthworks surrounding the chapel; these have not yet been investigated in detail.

Particular thanks to Michael and Elizabeth Jones and Chris Brooke
for the research and photographs.
Thanks also to Geoff Buxton for photographs
and to Sue Sinclair for drawing the plans.