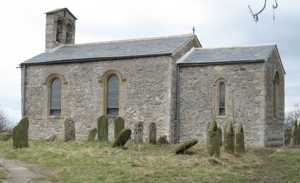 Littleborough
St Nicholas
Newark Archdeaconry
Bassetlaw and Bawtry Deanery
Introduction
The hamlet of Littleborough stands on the site of the Roman settlement of Segelocum.
St Nicholas is a small, plain Norman church, consisting of a nave, chancel and lean-to vestry. It is built in stone with random areas of herringbone pattern masonry containing some Roman brick and tile fragments. The large chancel arch is Norman with one order with scalloped capitals. At the west end of the church is a Norman arched doorway flanked by substantial buttresses.
On the west gable is a bell turret with two bells. The bells are of particular interest. The northern bell was made around 1180 to 1200 and is the oldest in the county; the other was cast around 1350. It is likely that both bells were cast in Nottingham.
On the south side of the nave are two 19th century round headed windows. The east end of the chancel has a 19th century window with Romanesque character. On the south wall is a similar window and a 14th century trefoil headed piscina with nail head ornament and carved face below.
The 17th century font bowl is round with a square base and an 18th century Queen Anne cover.
The church is no longer in regular use and is currently maintained by the Churches Conservation Trust.
Particular thanks to Dr Chris Brooke and Amy Calladine for research on this entry
and to Dr Chris Brooke and Geoff Buxton for the photographs.