Littleborough
St Nicholas
Monuments and Memorials
Chancel
There are three monuments on the north wall of the chancel.
A classical style slate and marble tablet with truncated obelisk to Benjamin Ashton (died 1765) and his wife, Catherine (died 1811):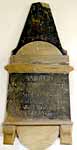 SACRED
To the Memory of Benjn
Ashton, who died Novr 28th 1765
Aged 43 Years.

Also Catherine his Wife
who died Sepr 19th 1811.
Aged 75 Years.
Slate and marble tablet commemorating William Wilkinson, who died in 1843: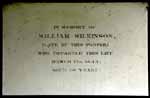 IN MEMORY OF
WILLIAM WILKINSON,
(LATE OF THIS PARISH)
WHO DEPARTED THIS LIFE
MARCH 17TH 1843,
AGED 60 YEARS
Slate and marble tablet commemorating John Wilkinson (died 1846) and his wife, Sarah, who died in 1835:

IN MEMORY OF
JOHN WILKINSON,
(LATE OF STURTON HIGH HOUSE,)
WHO DIED NOVEMBER 7TH 1846,
AGED 64 YEARS.

AND
SARAH, HIS WIFE,
WHO DIED SEPTEMBER 6TH 1835,
AGED 49 YEARS.
Nave
A brass plaque to the Rev Horatio John Griffin, who died in 1933, is mounted on the east wall of the nave, behind the pulpit.
TO
THE MEMORY OF
HORATIO JOHN GRIFFIN
PRIEST
VICAR OF THIS PARISH 1905-1916
WHO PASSED OVER JANUARY 17TH 1933
AGED 76

"UNTIL THE DAY BREAK AND THE SHADOWS FLEE AWAY."

"HE RESTS FROM HIS LABOURS
AND HIS WORDS DO FOLLOW HIM."
At the west end of the north wall is a slate and marble tablet in memory of Hugh Booth (died 1855) and his wife, Ann, who died in 1862: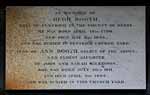 IN MEMORY OF
HUGH BOOTH,
LATE OF PENTRICH IN THE COUNTY OF DERBY,
HE WAS BORN APRIL 14TH 1796,
AND DIED MAY 2ND 1855,
AND WAS BURIED IN PENTRICH CHURCH YARD.

ALSO OF ANN BOOTH, RELICT OF THE ABOVE,
AND ELDEST DAUGHTER
OF JOHN AND SARAH WILKINSON,
SHE WAS BORN APRIL 3RD 1811,
AND DIED APRIL 3RD 1862,
AND WAS BURIED IN THIS CHURCH YARD.