Pleasley Hill St Barnabas
Features and Fittings
Communion table - gift from a Mr J. T. Wright

Pulpit, of wood on a stone base with openwork gothic designs of trefoils and ogees – a gift from the scholars and teachers of the Sunday School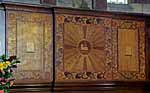 Reredos, of wood, elaborately decorated with marquetry design having geometric borders and the Paschal Lamb flanked by two open books.
Font, of stone, octagonal with trefoil inserts, set on a four columned base - gift from the vicar and churchwardens of Holy Trinity, Southwell.

Reading desks, of wood, two simple two-part desks and seats arranged north and south within the chancel.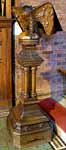 Lectern, wooden eagle set on columned stand, all with various carved decoration. A brass plaque states:
THIS EAGLE LECTERN IS DEDICATED
TO THE GLORY OF GOD AND IN MEMORY OF
PTE J.W. LENTON, SHERWOD FORESTERS
WHO WAS KILLED IN ACTION ON AUGUST
9TH 1915, ON THE GALLIPOLI PENINSULA.

HE WAS A FAITHFUL CHURCH WORKER
IN CHOIR AND SUNDAY SCHOOL

HE DID HIS DUTY
Seating in the nave, modern padded chairs replacing earlier pews.
Other presentations were made by the architects, Lady Fitz-Herbert, the Rev. and Mrs. H. S. Naylor, Miss Jepson, and Miss E. Hermon.