Rossington St Michael
Glass
Chancel
East Window
East Window shows St Michael slaying a dragon and is by Jean-Baptiste Capronnier of Brussels. It is dated 1862. Symbols at the bottom of the window show the Agnus Dei or Lamb of God and the pelican feeding its young, representing the sacrifice of Christ. However, at the base is a line of medieval quarries, so either the Capronnier isn't in situ or, more likely is the result of the glazier extending the border base from his native 'bit box' with faded painted late 15th/early 16th century fragments of tracery plus one piece of green ground. It is also just possible that the early glass represents the remnants of the predecessor window. The beaded foliate border design is typical 19th century so it has clearly had to be extended to fit the stone frame. The Capronnier would most probably have been selected and purchased from a catalogue and it may be that the measurements were wrong. It is also curious to have two tie bars so close together at the base of the window the upper one is a saddle bar supporting the weight of the Capronnier and the lower a tie bar preventing the weight on the border from distorting the lead dividing the 19th century border from the bits at the base.
Chancel South Wall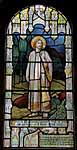 Small memorial window, given by parishioners in thanks for the ministry of the Rev J. W. Scarlett.
The inscription in the bottom right-hand corner of the window reads:
Erected by the parishioners of
Rossington in affectionate remem-
brance of the Revd J W Scarlett for
35 years Rector of this Parish 1912
Nave
West Window
Plain.
North Nave Wall
Three plain lancet windows.
South Nave Wall
One plain and one stained lancet window to the east. The stained glass window was given in loving memory of Mary Williams Streatfield 22 Jan 1903 and depicts an angel with the words 'The Spirit shall return unto God who gave it'.

Transepts
North Transept
Two plain windows and one stained glass.

The stained window in the north wall depicts Christ with a Communion cup, and the wording 'Do this in remembrance of me'.
The inscription reads:
IN MEMORY OF JAMES WILLIAMS SCARLETT
WHO DIED APRIL 30TH 1890 AGED 78 YEARS
AND OF ANNE RHODES WILLIAMS SCARLETT
HIS WIFE WHO DIED DECR 25TH 1868 AGED 49 YEARS
South Transept
Three plain windows and one stained glass.

Stained glass in the south wall is a figure of Christ with the wording 'I am the resurrection and the life'.
The inscription reads:
IN MEMORY OF JAMES BROWN OF
ROSSINGTON HALL AND COPGROVE YORKSHIRE
ESQUIRE WHO DIED APRIL 19

TH

1877.
The north and south transept mezzanine floors mean the two stained glass windows in the north and south transept are obscured. The best view of these is from the mezzanine rooms looking down.