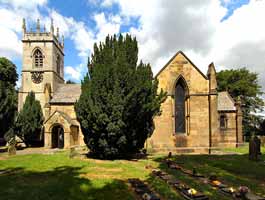 Rossington
St Michael
Doncaster Archdeaconry
West Doncaster Deanery
Introduction
Although Rossington is in the county of South Yorkshire (and before 1974 was in the West Riding of Yorkshire), the parish was until c.1840 part of the Archdeaconry of Nottingham.
The church consists of a west tower, chancel, south porch and nave with transepts.
It was largely rebuilt, with the exception of the 14th century tower, in the early 1840s by John Clark of Leeds in what Pevsner describes as 'a dreary lancet style.'
The 12th century south doorway and chancel arch are the earliest parts of the church fabric.
There is an ornate wooden pulpit dating from the 15th century and a Norman tub font with a cable-moulded rim.
The east window, depicting St Michael slaying a dragon, is by Jean-Baptiste Capronnier of Brussels and dated 1862.
There are monuments to James Brown (died 1845), who commissioned the restoration of the church, and his son James (died 1877).
Particular thanks to Dr Chris Brooke and Prof John Beckett for research on this entry
and to Dr Chris Brooke and Geoff Buxton for the photographs.