Rossington
St Michael
War Memorial
First World War plaque of inlaid stone on the south wall of the nave with decorative border and gilding.

+
TO THE HONOURED
MEMORY OF THESE MEN
WHO GAVE THEIR LIVES
FOR KING AND COUNTRY
IN THE GREAT WAR
1914 – 1919

PTE ARNOLD BALMFORTH Y.&L.
PTE SAM BARRAS Y.&L.
LT CYRIL CARR R.E.
DVR ARTHUR COOKE R.E.
PTE GEORGE HALLER Y.&L.
C.S.M. GEORGE OGDEN LINC.
PTE ARTHUR PARROTT N.F.
PTE WILLIAM PLEASANTS W.Y.
PTE TOM PINKNEY G.G.
PTE ROY VAUX K.O.Y.L.I.
GNR WILLIAM LOWE R.F.A.

"Their name liveth for evermore"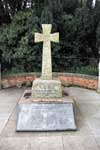 Just outside of the churchyard is the village war memorial, relocated to its present position in 2005. It includes the names of those who died in the First and Second World Wars and was funded in 1944 by the Women's section of the British Legion.