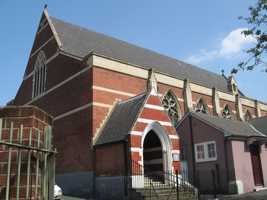 Sneinton
St Alban
Nottingham Archdeaconry
Nottingham South Deanery
Introduction
St Alban's Church was built in 1886-7 on Bond Street, around the pre-existing iron church, by Bodley and Garner. It is designed in Neo-Gothic style out of red brick with stone dressings outside and inside, pillars, arches and windows also in stone. The builders were Smith and Lunn of Newark.
It has a simple plan: nave and chancel without clerestory and no chancel arch, wide aisles with tall arcades, wagon roof, and modest bellcote with one bell, and south porch. The Lady Chapel was added in 1898, south aisle extended and vestries added in 1912 and mundane parish rooms inserted between the south porch and vestries.
Anglo-Catholic from the start, the church was said to be in the forefront in Nottingham of the Oxford Movement. The were Stations of the Cross, a High Altar, pulpit, rood screen and reredos in the Lady Chapel given in the early 20th century, and oak sedilia made in 1932 by Heazell and Sons.
The chancel and chapels are separated from the nave by delicately carved screens. A rood above the centre now serves as the iconostasis decorated with icons by Mr Cholak (c2000). Altars are by William Potik (1960s).
The east central window is by Burleson & Grylls, as are probably also the chapel east windows. Pope & Parr designed the nave south window; Bodley planned the south east vestry. A new font designed by Bodley and Garner was dedicated in 1892. It was octagonal, of red Runcorn stone with shields of the four evangelists. It once had a fine cover, now thought to have been taken to Sheffield.
St Alban's is unique in being Bodley's only town church in the Southwell Diocese. It became the Ukrainian Catholic Church in the 1960s.
Particular thanks to Doug Fletcher for research on this entry and for the photographs.