Strelley All Saints
War Memorial
New Churchyard
Within the new churchyard is a Calvary erected on three tier circular steps designed by the church architect C G Hare.
The memorial relates only to the dead of the First World War.
The inscriptions read:
+ REMEMBER BEFORE GOD +
THE GALLANT DEAD WHOSE NAMES
ARE WRITTEN HERE THROUGH THEIR
BODIES LIE IN OTHER LANDS
AUGUST 1914 – 1918
GRANT THEM O LORD ETERNAL REST
AND LET LIGHT PERPETUAL SHINE
UPON THEM
WILLIAM RICHARD FLACK
DRIVER 11TH DIVISION R.F.A.
HEADQUARTER STAFF
KILLED IN GALLIPOLI, DECEMBER 2ND 1915
AGED 19
BURIED ANAFARTA SAGIR SULVA BAY
ALFRED JOHN PALIN
BOMBARDIER A/112 BATTERY R.F.A.
25TH DIVISION
KILLED IN FRANCE, MAY 3RD 1916
AGED 22
BURIED ECOIVRES FRENCH MILITARY CEMETERY
N. W. ARRAS
THEY LOVED NOT
THEIR LIVES UNTO THE DEATH
GEORGE DOBNEY
PTE SOUTH NOTTS HUSSARS
KILLED NEAR MONCHY AU PREUX, FRANCE
AUGUST 29TH 1918
ATTACHED AS GUNNER TO BUCKS & BERKS YEOMANRY
AGED 20
EDWIN GEORGE BREWSTER
GUNNER A/251 BATTERY R.F.A.
NORTHUMBRIAN BRIGADE
DIED AS PRISONER OF WAR BEHIND THE GERMAN
LINES IN FRANCE, SEPTEMBER 20TH 1918
AGED 23
BURIED AT CRECY-SUR-SERRE
George Dobney was attached as a Gunner to the Bucks and Berks Yeomanry, Machine Gun Corps and was buried at the Vis-en-Artois memorial, Pas de Calais.
The war memorial stands 4m tall and is mounted on a plinth 1.2 m tall and 0.9m square. This surmounts three concentric steps: the base step has a diameter of 3.3m, the middle of 2.67m and the top 2.04m. The steps are 25cm deep giving the total height of the monument as 6m.
War graves within the new churchyard are to:
Henson, Charles Wilfred.
Private, Sherwood Foresters (Notts and Derby Regt.).
Died 20 Aug. 1918 aged 26 years.
Hudson, Edmund.
Pte. 14th Battalion London Regt. (London Scottish).
Died 24 Nov. 1919, aged 25 years.
Hughes, Harry Alfred.
Sapper, Royal Army Ordnance Corps.
Died of sickness, 17 June, 1920, aged 41 years.
Pauley, Edward.
Sapper, Royal Engineers.
Died 9 Mar. 1920, aged 40.
South Transept Chapel
The south transept was converted into a chapel dedicated to Frances Etheldreda Edge and completed in 1927. It also commemorates the dead of the First World War.
An inscription on the panelling to the south of the altar reads: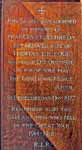 THIS CHAPEL WAS ADORNED
IN MEMORY OF
FRANCIS ETHELDREDA,
THE BELOVED WIFE OF
THOMAS L.K. EDGE
WHO DIED 10TH OCT: 1926.
ON WHOSE SOUL MAY
THE LORD HAVE MERCY.
AMEN
ST ETHELDREDA'S DAY 1927.
REMEMBER ALSO THE
GALLANT MEN WHO FELL
IN THE GREAT WAR
1914-1918.
R.I.P.
Wall-mounted
lectern
Framed Roll of
Honour for the
dead of World War I
A wall-mounted lectern in the chapel is inscribed '1914-1918' on either side and a framed Roll of Honour naming Richard Flack, Alfred Palin, George Dobney, George Brewster and Wilfrid Henson is kept on it.
A Book of Remembrance was created in 1921 to the memory of all those of Strelley and Bilborough who served King and Country in the Navy and Army during the Great War.