Thorpe St Laurence
Bells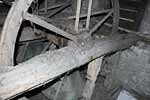 There is a western tower containing a ring of two bells.
| | | |
| --- | --- | --- |
| | Size | Weight |
| 1 | 25" | c 3cwt |
| 2 | 28" | c4.5cwt |
The treble is blank and the tenor is inscribed 'AVE MARIA'. Both bells appear to be by the Seliok family of Nottingham (c.1470-c.1540), the lettering on the tenor being of the large type C capital letters used by later members of the family (c.1507-c.1540)and the style of the treble, including the moulding wires and canons, is the same as the tenor.
The bells are hung in a wooden frame for three bells, although only two bells are present in the frame. The frame is an Elphick 'B.2' type, Pickford Group 1(variant iii).The cross beams are chamfered and probably reused from elsewhere and the centre post on the north side is clearly a reused section from another structure being ornately shaped and moulded. In 2013 the frame was assessed for dendrochronology but was found to be unsuitable due to paucity of rings.
In 1740 it was recorded there were three bells and 1817 two bells.
John Throsby recorded in 1790 that there were three bells.