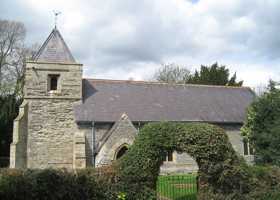 Thorpe
St Laurence
Newark Archdeaconry
Newark and Southwell Deanery
Introduction
The village of Thorpe (also known as Thorpe-by-Newark) lies close to East Stoke and Farndon in the countryside south-west of Newark.
The church of St Laurence was built in the 12th century as a rectory under the patronage of the powerful de Thorpe family. This very small building is late Perpendicular of Bennington blue stone with Ancaster stone facings. It consists of a chancel, nave, large south porch, and low west tower with turret containing two bells. There is no chancel arch but there is a modern screen.
The church was rebuilt, with exception of the tower, in 1869-70, by Charles Bailly of Newark. Features of the original tower date it to the late 13th century with later belfry windows, roof, and parapet. There is no chancel arch but a modern screen and plain piscina niche. The font is a mix of various periods in the church's history consisting of a base stone, a moulded 14th century shaft, a Norman holy-water stoup, and 17th century domed cover. There is also a single carved Jacobean coffin stool.
In the chancel is a much mutilated effigy of Lady Margaret Thorpe, widow of Lord William de Thorpe who fought at Crecy in 1346. She is wearing a wimple, her feet resting on a dog, but both arms are missing.
There is a brass and a memorial window to John, son of the Rev William Wood, former Rector. Also a stained glass east window in memory of the Rev Andrew Ping, former Rector, installed in 1937. Additional brasses from the 18th century for the Brady family and the Rev Charles Townsend and his wife.
It is in a much better state now than in the 17th century. The Archdeaconry Return 1638 reported that there was no cover on the font, no poor box, that the belfry needed paving and that the churchyard was unfenced and full of rubbish.
The register dates from 1555.
Particular thanks to Dr Chris Brooke and Amy Calladine for research on this entry
and to Dr Chris Brooke and Geoff Buxton for the photographs.