Thorpe St Laurence
Glass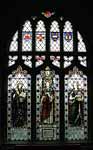 East window
The east window depicts St Lawrence in the centre light flanked by St Luke to the north and St Cecilia to the south, and is in memory of former rector, the Reverend Andrew Ping. It was installed in 1937 and was dedicated by the Archdeacon of Newark, J. P. Hales. It is by an unknown maker and bears an inscription below the figure of St Lawrence reading:
In affectionate memory of the late
Andrew Ping M.A. B.Sc.
rector of this parish 1901-1935,
vicar of Farndon 1922-35.This
memorial is erected by his parishioners,
friends, and his family.
The intermediate lights bear the words 'Laus Deo' in red, and the top lights carry four coats-of-arms.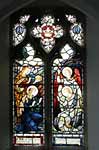 South chancel
window
The south chancel window was erected in memory of John Wood, the son of another former rector who was killed in the South African war. It is by an unknown maker and appears to depict, on the east side, Martha and Mary with Mary bearing a casket (possibly portraying the pound of ointment of spikenard) and the inscription: 'I AM THE RESURRECTION AND THE LIFE' (John 11:25) at the bottom. The west lights show two angels one kneeling in the attitude of blessing, the second standing with finger pointed to heaven, below which is the inscription:
TO THE GLORY OF GOD AND IN MEMORY OF
JOHN BAINBRIDGE WOOD OF KITCHENER'S FIGHTING
SCOUTS YOUNGEST SON OF THE LATE WILLIAM WOOD
RECTOR OF THIS PARISH KILLED IN ACTION AT PIENAARS
RIVER TRANSVAAL S.AFRICA 1

ST

JUNE 1901 AGED 25.
All other windows in the church have plain glass.
In Robert Thoroton's account of 1677 he mentions that the Thorpe arms 'is oft also in the Window' so presumably there was glass with these arms intact at that time and in more than one place.