Thorpe
St Laurence
Monuments and Memorials
There was formerly the stone effigy of a knight, possibly representing Sir William de Thorpe (fl. c.1330) which is said to have been accidently damaged in the 19th century restoration, though according to Guilford was apparently still under the tower in 1910. It is known that this William de Thorpe had a wife called Margaret, as her will survives. Robert Thoroton in 1677 recorded that in the church 'was an ancient tomb, whereon lay one in Armour and Mail, cross-legged and on his Shield Azure, a fesse Argent, betwixt three Lions Rampant Or, which is oft also in the Window, Thorpe, and the inscription is: Hic jacet Dom. Williemus de Thorpe, miles, & Domina Margaereta uxor sua...'. In John Throsby's revision of 1790 he records that this monument lay 'just under the reading desk'.
John Throsby also notes that there was an 'old stone [that] remembers Adam de Thorp, figured with his shield and helmet. Another had an inscription also, but now mostly obliterated.'
Effigy of Margaret
de Thorpe
The surviving section of
the inscription reads
'Margareta uxor...'
In the south of the chancel is a damaged late 14th century reclining effigy in stone probably the wife of Sir William de Thorpe. The figure is a lady with feet resting on a dog, and wearing a wimple.
Lettering is still partially visible on the chamfer of the north side reading 'Margareta uxor...'
Below the south chancel window is a metal wall plaque reading:

IN MEMORY OF
CHARLES TOWNSEND, M.A.
RECTOR OF THIS PARISH,
SECOND SON OF THE REVEREND
JOSEPH TOWNSEND M.A.
RECTOR OF PEWSEY, WILTS:
BORN 18 JUNE 1780
DIED 10 NOVEMBER 1865.
ALSO OF LUCY HIS WIFE.
BORN 25 JULY 1781.
DIED 20 APRIL 1847.
THEM WHICH SLEEP IN JESUS
WILL GOD BRING WITH HIM.
Also below the south chancel window, to the west of the Townsend plaque, is a metal panel reading:

In Memoriam Elizabeth Fil Willi
Brady nup de Newarke Gen
defunct et ux Jacobi Haynes de
vill Nottingham Gen que ab hoc
decesit 25to Martii Anno Dm 1709
Hic generosa jacet nulli pictate secunda
Que posuit vitam Morte Coacla suam
Quid dixe anne Coacla fuit non. Illa libenter
Accepit fortis spicula dira Necis
Pravorum Cogi vitam deponere Mos est
Illa tamen Mortem corde volente tulit
On the north side of the chancel are set three memorial plaques.
The easternmost is of orange marble and inscribed:

TO THE MEMORY OF
MARY ANNE MEE,
DIED JAN

Y

9

TH

1943,
AGED 85.
FOR 69 YEARS A DEVOTED
CHORISTER OF THIS CHURCH.
The centre monument is a marble plaque, on shaped and raised section, reading:

In a Vault beneath
are deposited the Remains of
ELIZABET

H

TOMLIN, only Daughter
of JOHN AND ELIZ

H

. TOMLIN,
who died 25

th

Sep

r

. 1829, after a short
illness of 6 days, aged 11 years.
Whose amiable and endearing qualities
as a Daughter, will ever be remembered
by her afflicted Parents, who have truly
to mourn their loss.
The westernmost monument is a rectangular bronze plaque set within a wooden frame reading:

To the
Glory of God and in memory of
John Bainbridge Wood
(son of the Rev William Wood for 26 years Rector of this Parish)
of Kitchener's Fighting Scouts, killed in
action at Pienaars River, South Africa.
1 June 1901 Aged 25
"Afloat, ashore, old England's sons, each one
Must hold life low as they hold duty high
And ask not how or when tis theirs to die
So they but die like men, their duty done."
This tablet is placed hereby his fellow
clerks in Smiths Bank, Newark.
Set into the floor of the chancel on the north side is a ledger stone bearing the inscription:

In Memoriam
GEORGE TOMLIN
(Shelford Lodge,
in Comitatu Nottinghamiensi)
Obit 21 die Seps.1813
Ætat 50 Annos.
Item
Conjugis ejusdem
ELIZABETHÆ,
Quae obiit Aprilis 9o
Anno Salutis 1843,
Ætatis suae 77o
Below is the maker's name 'Wallis Newark'
On the south wall of the nave, at the east end next to the screen, is a wall monument of stone, an arched recess topped by foliate crockets with a stylized foliate boss, and below dog tooth ornament set within the border; it rests on three stone brackets. An inscription on the central panel reads: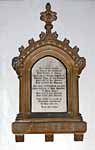 In a Vault beneath
are interred the remains of
John Tomlin of Thorpe,
(third son of George Tomlin of
Shelford Lodge in this county)
Born xiiith. of Decr. Mdccxci,
Died xxviith. of Decr. Mdccclxii.
Also those of Elizabeth his wife,
(eldest daughter of John Brockton
of Stoke Field)
Born xxth. of Novr. Mdccxciv.
Died iind. of Jany. Mdccclix.
This Tablet is erected
in affectionate remembrance
by their only son.
"Be ye also ready".