Wellow
St Swithin
Archaeology
Built of stone, the church consists of a chancel with vestry extension, nave, south aisle, north porch, and embattled south west tower with pinnacles.
In the north wall is one 13th century window; the south aisle windows with intersecting tracery of c.1300.

Nave and south
arcade looking east
There are traces of Transitional (i.e. from the Norman to Early English style) architecture in the octagonal shafts and arches of the aisles.
The nave is principally 14th century, as is the arcade which is of two semicircular arches with octagonal pier and responds.

The tower is positioned to the south-west rather than the west (i.e. it is attached to the south aisle rather than the nave). It is of three stages: the main structure, built of red sandstone, is of three phases, the lowermost being 12th century, with a 13th century belfry stage, the battlements and pinnacles are Perpendicular Gothic, probably 15th century. There are coupled belfry lights in upper stage, surmounted by a Perpendicular addition of smooth freestone with an embattled parapet and small angular pinnacles. It has an arch similar to that in the nave and another, now stooped in its north face, which opened originally into the other portion of the nave.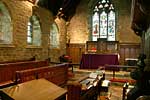 Chancel interior
The chancel is of 1878, and comprises 3 bays with buttresses to the north-east and to the north, and three trefoil-headed lancets. The east end has a triple lancet with cusped geometrical tracery. A vestry to the south has to the east a chamfered shouldered doorway.
The porch is of the 19th century, probably built at the same time as the reconstructed chancel, and is in the 13th century style.