Wellow
St Swithin
Glass
South aisle
The east window of 1877 is by Kempe, one of the many windows given by C.G.S. Foljambe to various churches in the region (including Ollerton St Giles) in memory of his wife. It consists of four panels of Christian scenes overlooked by the figure of an angel. The inscription reads: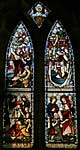 TO THE GLORY OF GOD AND TO THE MEMORY OF HIS BELOVED WIFE
LOUISA BLANCHE FOLJAMBE
WHO DIED 7TH OCT 1871 AGED 29 & HER SECOND SON
FREDERICK COMPTON SAVILE FOLJAMBE WHO DIED 21ST AUG 1871.
THIS WINDOW IS ERECTED BY CGSF 1877
A semi-quatre foil light above this window contains the figure of St. Swithin.
The south window has three bays, arched with intersecting tracery.
Nave
Millenium window
Detail of
Millenium window
The Millennium window is situated in the west wall, and was installed in 2000.
It depicts the village's famous maypole celebrations using Christian symbols.
North windows: two-bay window with narrow panes of glass, not stained.
Chancel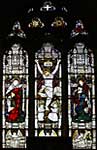 The east window of the chancel shows Jesus on the cross. There is no dedication on the glass itself but according to some sources it was donated in the memory of William S. Ward, surgeon, who lived at Wellow Hall.
The chancel has three single windows in the north wall, with no stained glass.
The vestry has two small rectangular windows in the south.