Wellow
St Swithin
War Memorial
Wellow's only war memorials to the fallen of the two world wars are two plaques placed inside the church on the north wall of the nave, to the west of the porch.
First World War
The memorial was unveiled in 1921.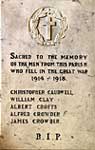 SACRED TO THE MEMORY
OF THE MEN FROM THIS PARISH
WHO FELL IN THE GREAT WAR
1914-1918
CHRISTOPHER CAULDWELL
WILLIAM CLAY
ALBERT CROFTS
ALFRED CROWDER
JAMES CROWDER
R.I.P.
Second World War
Directly below the First World War memorial is a simple wooden one commemorating the four men who lost their lives in the Second World War:

Also on the north wall is a Roll of Honour listing all 49 villagers who served in the 1914-18 war.