West Leake St Helena
Features and Fittings
Chancel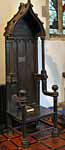 A large wooden chair on the south side of the sanctuary in memory of Elizabeth Barton who died in 1941. A plaque on the chair reads:
PRESENTED TO
THE CHURCH OF ST HELENA, WEST LEAKE
IN LOVING MEMORY OF
ELIZABETH BARTON
(NEE WALKER)
A NATIVE OF WEST LEAKE
A DEVOTED WORKED AND MEMBER
OF CHURCH & CONGREGATION
BORN DEC 15TH 1868 DIED OCT 31ST 1941
Also a wooden table commemorating the restoration of the church by Algernon Henry, 3rd Baron Belper, in the year 1936.
Nave
At the back of the church are two stout oak benches, at least 400 years old.
South Aisle