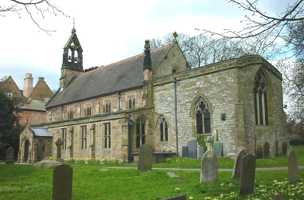 West Leake
St Helena
Nottingham Archdeaconry
West Bingham Deanery
Introduction
The building consists of chancel, clerestoried nave (with a bell turret containing two bells at the west end), south aisle, south porch, with an organ chamber and vestry off the north wall of the nave.
The earliest part of the church is the north nave wall which contains a blocked 12th century doorway (with fragments of zigzag decorated imposts and originally with a round-arched tympanum) and to the left a single 12th century round-arched window.
The five-bay south arcade dates from the 14th century and is on low octagonal piers.
The church was extensively restored in 1877-8 by the London architect, Henry Hall, who was commissioned by Lord Belper.
There are three medieval effigies in the church. On the north side of the chancel is a lady lying in a canopied recess, 'wearing a wimple, one dainty hand holding the folds of her gown.' In a recess in the north wall of the organ chamber is the figure of a man 'with curly hair, a heart in his hands, and his feet on a dog; he wears a gown patterned with crosses in circles, and may have belonged to the family whose name was that of the village.' The third effigy is a medieval civilian wearing a belted gown and lies in a recess in the south aisle.
Particular thanks to Bill Buchanan and Andy Nicholson for research on this entry
and to Geoff Buxton for the photographs