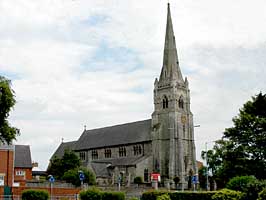 Worksop
St John the Evangelist
Newark Archdeaconry
Bassetlaw and Bawtry Deanery
Introduction
St John's parish was formed in 1867 from the parish of Worksop.
The church is built of stone in the 'Decorated Revival' style and consists of a chancel, nave with clerestory, aisles, north porch, vestry and an embattled west tower with lofty broach spire and pinnacles, containing a clock and two bells. It opened in August 1869.
The architect was R Clarke & Son of Nottingham. The builder, Charles Wright, and the carvers, W P Smith & Sons, were also Nottingham firms.
The nave and aisles are 82 feet long, the chancel 30 feet, and the spire rises to 140 feet. The piers are quatrefoil in plan with carved capitals; the chancel has three detached shafts and moulded arch and hood mouldings. The organ chamber opens into the aisle and chancel. Mr Brindley of Sheffield built the new organ.
The aisles are lighted by two-light lancets. All of the windows at first were of plain glass, except that at the east end in stained glass given by C G Foljambe in memory of his wife (d1871). In 1874 a large two-light stained glass window was installed in the chancel. More stained glass was added in the 1940s and 1950s.
There is a fine square stone font, carved scenes on the sides, with a high wooden cover. The original carved wood lectern and pulpit were replaced with a brass lectern and oak pulpit on a stone base. The stone and alabaster reredos erected in memory of G S Foljambe was replaced with one in light oak in 1932.
Although 'berated by contemporary opinion' (Pevsner) the church presents a light and graceful appearance.
Particular thanks to Amy Calladine, Andy Nicholson and Andy Souter for research on this entry
and to Geoff Buxton, Andy Souter and Dr Chris Brooke for the photographs.