Bulwell
St Mary
Glass
Click the numbers in the key plan for details of the items.
Chancel
1.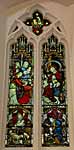 The window in the north wall of the chancel depicts the Agnus Dei (Lamb of God) and is dedicated to Samuel Robert Cooper (1863-1865).
An ornate brass tablet on the wall to the left of the window reads:
This window is dedicated to the Glory of God,
In memory of Samuel Robert, third son of
Samuel Thomas Cooper and Anne his wife of
Bulwell Hall, Notts., born viii March mdccclxiii,
died xiii April mdccclxv.
"Of such is the kingdom of heaven"
2.The upper section of the east window shows the Blessed Virgin Mary, flanked by Saint Peter and Saint Paul. The lower section (partially obscured by the reredos) shows the Four Evangelists: Matthew, Mark, Luke and John.
East window
The Blessed Virgin Mary
flanked by Saints Peter
and Paul
The Four Evangelists
St John
South Aisle
The windows in the south aisle show scenes from the life of Jesus.
4.
| | |
| --- | --- |
| | Detail |
The easternmost window in the south wall of the south aisle is dedicated to Albert Richards, a former churchwarden.
An inscription at the bottom-right of the window reads:
RESTORED 1975 IN MEMORY OF ALBERT RICHARDS
FOR 25 YEARS CHURCHWARDEN OF THIS PARISH
5.
| | |
| --- | --- |
| | Detail |
The subject of the window in the centre of the south wall of the south aisle is 'Suffer the little children to come unto me.'
The window commemorates Edith Ward who died in 1928. The inscription at the bottom of the window reads:
To the Glory of God and in loving memory of Edith, wife of
the Rev: T. M. Ward M.A. At rest Jan

y

31

st

1928
West Room
7.
Lefthand
light
Righthand
light
This two-light window in the south wall of the West Room contains decorative stained glass.
8.

Upper section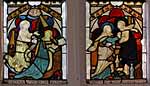 Lower section
The window in the west wall of the west room was restored in 1951 in memory of a former churchwarden, John Severn, who died the previous year.
A metal plaque nearby reads:
In memory of John Severn (1878 – 1950)
Churchwarden 1933 – 1950
This window was restored during the year 1951
by many Friends in Thanksgiving for his life -
long service to Bulwell Parish Church and was
re-dedicated on Remembrance Sunday,
November 11th 1951.
North Aisle
Windows 10-12 are by Michael Stokes (MDS Stained Glass Ltd).
10.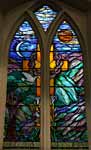 The window was donated by Ken and Jean Watkin in memory of their two sons, Christopher and David, who had both died at a young age. It was installed in 2005.
The inscription at the bottom reads:
IN MEMORY OF CHRISTOPHER JOHN WATKIN 1952-62 & DAVID ASHLEY WATKIN 1961-2003
13.

The east window of the north aisle is dedicated to members of the Allcock family.
The inscription at the bottom of the window reads:
TO THE GLORY OF GOD AND IN MEMORY
OF CHARLES ALLCOCK OF BULWELL WHO
DIED THE 4TH OF AUGUST 1860 AGED 71 AND
HANNAH HIS WIFE WHO DIED THE 5TH MARCH
1831 AGED 32 AND OF CHARLES ALLCOCK
THEIR SON WHO DIED THE 17TH OF NOVEMBER
1872 AGED 47 AND CATHERINE HIS WIFE
AND THEIR YOUNGEST SON WHO
DIED THE 23RD OF JANUARY 1866 AGED 37