East Drayton St Peter
Archaeology
Core fabric C12-C15th
Nave with north and south aisles, C13th-C15th
Chancel has evidence of Transitional work, c.1190 and later development to C15th
Tower C15th, buttressed and with pinnacles
South porch C15th with vaulted stone roof
Significant Interior Features
Complex, multiphase fabric evident in parts (eg. east wall of the chancel)
Rood screen C15th restored
Late medieval nave roof with carved bosses and painted decoration
C18-C19th mural paintings in tower
Mural painting (traces) in N.Aisle
Medieval Cross Slab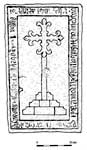 Rectangular floor stone at the south-east corner of the nave (may be under the lectern), incised design, in reasonable condition. Straight-arm cross with fleur-de-lys terminals, rising from a stepped 'masonry' base, marginal inscription between deeply-cut borders, in a crude and clumsy variant upon black letter, worn in parts and difficult to read. The date, spelt out on the south side, seems to be 1512. It is thought to commemorate a member of the local Burgh family.
Description and drawing of the cross slab courtesy of Peter Ryder.
Technical Summary
Timbers and roofs
| | | | |
| --- | --- | --- | --- |
| | Nave | Chancel | Tower |
| Main | Ties and panels C15th (repaired 1982) | Curved braces and ties, prob. 1857 | Twin east-west tie beams with north-south crossing beam above. The two lower ties appear medieval and the upper timbers, including purlins, rafters, and wall plates are later, but possibly pre-C19th |
| S.Aisle | Lean-to, plaster panels | | |
| N.Aisle | Lean-to, plaster panels | | |
| Other principal | S.Porch C15th stone rib vaulted | | Ringer's gallery: flat. painted, prob. 1873 |
| Other timbers | | | |
Bellframe
Cast-iron, low-sided frame, Pickford Group 8.3.A with simple 'X' braces to sides - 1952 by Taylors of Loughborough
Not scheduled for preservation. Grade 5.
Walls
| | | | |
| --- | --- | --- | --- |
| | Nave | Chancel | Tower |
| Plaster covering & date | Not plastered | Plastered, probably 1857 and later | Plastered, probably C18th |
| Potential for wall paintings | High (traces in N.aisle) | Visible on surround to north doorway; more probable under plaster | C18-C19th paintings on ground floor walls |
Excavations and potential for survival of below-ground archaeology
The potential for surviving archaeology in all areas of this church is good. The upstanding fabric is complex and mutiphase, except where clearly from the C15th major expansion. There are no details of below-ground startigraphy, but no major disturbances are recorded and therefore potential may be considered high.
The overall potential for the survival of below-ground archaeology in the churchyard is considered high and below the present interior floors throughout the building is considered to be high.
Exterior: Largely inhumation burials, medieval to C19th. Boundaries may have importance in the development of the site.
Interior: Nave, chancel, and tower have developed normally from at least the late C12th through to the C15th, with some C19th and C20th restoration. Stratigraphy is likely to be complex and largely intact, representing all major phases of the building.
Standing fabric is complex and multiphase with some clear unified periods of building.