East Drayton St Peter
Organ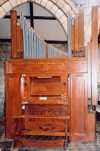 A 1-manual organ built by J Halmshaw of Birmingham in the mid 1860s, free standing in the north west corner of the nave.
Specification
| | | |
| --- | --- | --- |
| Cabinet | | 2.370m wide, 0.096m depth, 2.020m high (excl. pipes) |
| Manual compass | | 56 notes |
| Pedal compass | | 30 notes, pulldowns only |
| Open Diapason | | 8' wood & metal |
| Stopped Diapason | | 8' (actually a Clarabella, but the original name retained) |
| Dulciana | | 8' metal from Tenor C, bass grooved into Clarabella |
| Principal | | 4' metal fitted in 1995 to spare slide |
| Fifteenth | | 2' metal fitted in 1995 to replace Flute 4 |
| Octave Coupler | | |
| Power | | Electric blower |
Historical Background
Until 1995 it was installed in the now redundant church at Ragnall and was moved to East Drayton in 1995 by Anthony Herrod, Organbuilder with the help of parishioners, where it was stripped, modified and reassembled.
Prior to its removal the specification contained a very poor Flute 4' made from a cut down string stop and fitted with stoppers. (What this replaced, if anything, can only be guessed at). The labelling on the pipes was unlike the rest of the metal pipework and it was discarded with no fears of destroying the original material. This created space for a much needed Fifteenth 2' stop, and as there was a spare slide which had not been previously used (the upperboard was still undrilled though marked out ready) the opportunity was taken to fit a Principal 4' to complete the chorus. As far as possible the additional pipe work is of a similar vintage.
A terrier of 1887 lists a small chancel pipe organ, and another terrier of 1908 lists a chancel pipe organ and a harmonium among church property.
The organ has been maintained and tuned annually since 1995 by Anthony Herrod.
Particular thanks to Anthony Herrod and Jeff Jones for information on this entry.