East Stoke St Oswald
Bells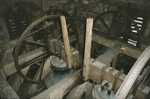 In the belfry
The tower contains a ring of four bells:
| | | | |
| --- | --- | --- | --- |
| | Inscription | Size | Weight |
| 1 | JOHN WIGHTMAN | 30" | 4.2.3 |
| 2 | GOD SAVE HIS CHURCH | 31" | 4.3.18 |
| 3 | IHESUS BE OUR SPEDE | 34¾" | 6.2.16 |
| 4 G# | IHESUS BE OUR SPEDE | 38" | 9.2.14 |
Hung full circle ringing in an interesting old wooden frame with wooden headstocks and plain bearings by Whites of Appleton early 20th century and restored by Hayward Mills Associates where the frame has been repaired & consolidated, the bells have been rehung on cast-iron canon retaining headstocks with ball bearings, and the rest of the fittings replaced. The frame is a converted 3 bell frame, presumably done when the bells were recast and augmented in 1591. A dendrochronological analysis of the replaced bottom sill of the tenor pit has indicated that the last heart wood ring dates to 1570. With the sapwood to be considered it would appear that the timber was felled in the range 1585 to 1610. As the bells date from 1591 in the altered frame, it seems most likely that the frame was built as a three bell frame in 1590/1, and quickly altered for the new four bells cast in 1591. The extra pit was produced by shortening the 3 pits and putting the new treble across the end. Thus we have here a pre-1591 frame substantially modified at that date to accommodate the 4th bell.
All 4 bells are by Henry II Oldfield and they retain their canons. Apart from the tenor 5 at Whatton, Nottinghamshire of two dates (1590 and 1618) this is the most complete ring by him. They have not been tuned since and apart from the treble being slightly sharp, are in good tune as a ring.
A panel at the base of the tower, one of two panels funded by the Heritage Lottery Fund, describes the bells in detail.