East Stoke St Oswald
War Memorial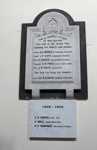 The First World War Memorial is a round-topped white marble memorial mounted on slate, on the north wall of the church directly facing the main entrance of the church. A simpler white marble plaque immediately below it commemorates those who fell in the Second World War. The text reads as follows:
1914
-
1918
To the Glory of God
and in memory of men
of this parish
who fell in the Great War
fighting for liberty and justice.
LIEUT. H.A. BROMLEY, CANADIAN FUSILIERS.
CORPL. J.P. CUPIT, GRENADIER GUARDS.
PTE H. COOPER, COLDSTREAM GUARDS.
GUNNER G. W. PRICE, H.M.S. QUEEN MARY.
PTE. J.R. SMITH, CANADIANS.
For God, for King, for Empire.
ALSO CORPL. W.B. BAKER, SHERWOOD FORESTERS.
1939 - 1945
E.H. COOPER, R.A.F. V.R.
G. SNELL, QUEENS OWN H. REGT.
H.R. HUMPHREY, ROYAL CORPS OF SIGNALS.