East Stoke St Oswald
Churchyard

Across the churchyard
from the west
The churchyard is roughly rectangular in shape with an angled west side as it follows the narrow lane. The church itself is located close to the eastern extremity of the churchyard, indicating a close association with the domestic buildings of Stoke Hall beyond. Taken in conjunction with the distance of the church from the present main village, and its position at the extremity of the former medieval village to the south, this appears to be a typical example of an 'isolated with hall' church and churchyard that may indicate its origins as a private chapel or pre-Conquest foundation.

Memorial to
those killed in
the Battle of
Stoke Field
The ground level of the churchyard is significantly higher than the surrounding ground, and also the floor level of the church itself. It has been suggested that this may be the result of a large number of burials following the Battle of Stoke Field in 1487. There is in the churchyard a (modern) memorial to those who fell in that battle.
The boundaries of the churchyard have mature and semi-mature trees on all sides, and a significant brick wall, mainly formed of stretcher bond, with a stone foundation on the west and south sides. The date of the wall is indeterminate but in origin may be pre-18th century. The present entrance to the churchyard lies at the south-west corner where there is a wooden gate from the lane.
Burials are mainly concentrated to the west side of the church.
On 29th January 1947 land was granted to the church for an extension to the churchyard (which was consecrated in July 1947).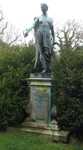 The Pauncefote
monument
The Pauncefote Monument
Just to the west of the church is an important monument (itself grade II listed) dedicated to Baron Pauncefote, taking the form of an angel presenting a laurel wreath. The inscription on the plinth reads:
TO THE
DEARLY LOVED MEMORY OF
THE RIGHT HONOURABLE
JULIAN
BARON PAUNCEFOTE
OF PRESTON
G.C.B. G.C.M.G
FIRST AMBASSADOR TO THE
UNITED STATES OF AMERICA,
BORN SEPTEMBER 13TH 1828,
DIED IN WASHINGTON,
MAY 24TH 1902.
"BLESSED ARE THE
PEACEMAKERS". 5.MATT.9.v.