Gedling
All Hallows
Monuments and Memorials
It is noticeable that a church as large and old as All Hallows contains so few monuments to lay people. The earliest was erected in 1836.
All of the monuments are listed below in chronological order and are located on the sketch plan: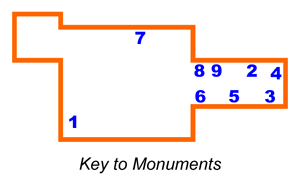 1At the west end of the south aisle is a 13th century stone coffin with a cross-slab lid. It was removed from below the floor during the restoration of 1872 and is completely exposed. The slab has the floriated cross in relief with a face showing through in a quatrefoil at the intersection and a pair of feet through a trefoil at the base.
2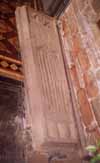 On the north side of the chancel near to the altar is a slab showing a priest in shallow relief. He is clad in an alb and dalmatic and is carrying a maniple. The hands are shown crossed below the waist, not in the usual prayerful posture. The slab is made of Mansfield stone and there is reputed to be a coffin beneath it. Throsby reports there being two coffins and says that people were buried in them since their original occupiers. This slab is generally attributed to c1200, but Pevsner says it is probably much later and describes it as 'Volkunst'
3On the south wall of the chancel at the east end, Richard Wood MA 30 years Rector of Gedling, Prebendary of Lichfield and Southwell, died 7th October 1734 aged 70 years; and Bridget his sister who died 12th November 1714 aged 56 years.
4A floor slab near to the altar to Richard Kirkby who was presented in 1745 and died on 10th February 1784 aged 68 and his wife Anne died 26th December 1784.
5A slab on the wall between the second and third windows of the south wall of the chancel written in Latin to William Smelt 39 years rector . He was born on 7th May 1745 and died 22nd August 1823. It also commemorates his wife Margaret who was born 9th May 1755 and died 7th September 1811.
6Further west on the wall is a tablet to Charles Wiliams MA 34 years rector who died on 24th July 1866 aged 81 years and to his wife Charlotte who died 25th August 1849 aged 56 and his sister Elizabeth who died 11th April 1840 aged 60 years.
7In the North aisle is a memorial to Frances Elliott who died 9th April 1836 and her husband William Elliott Elliott who died 18th January 1844.
8On the North wall of the chancel is a brass memorial plaque to William Stanford Burnside who died 29th May 1870 aged 79 years and Mary his wife who died 1st March 1878 aged 75 years.
9Also on the North wall is a marble plaque commemorating Everilde Beaumont the niece of Frances Elliott who died 16th December 1847.