Hawton All Saints
Bells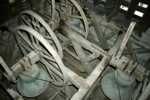 The bells and
bellframe
The bells are:
| | | | |
| --- | --- | --- | --- |
| | Inscription | Size | Weight |
| 1 | GOD SAVE HIS CHVRCH 1655 | 32" | c6cwt |
| 2 | Celorum xte placeat tibi rex sonus iste | 32¼" | c6½cwt |
| 3 | GLORY BEE TO GOD ON HIGH 1655 | 34½" | c7¼cwt |
| 4 G | JESUS BE OUR SPEED 1624 | 39¼" | c10cwt |
The bell frame is of timber, mainly Elphick 'V' form (Pickford 6.B) with modifications to some trusses to create Elphick 'W' form (Pickford 6.D) trusses; the whole is likely to be of 17th century date, and the fittings appear to be by Whites of Appleton, Oxfordshire who did a number of jobs in the area early this century. The frame was apparently originally constructed with four bays although the pit on the south side has straight Elphick 'X' form (Pickford 6.I) trusses which are, nonetheless, much the same dimensions as those in the rest of the frame and use the same jointing forms.
All bells retain their canons. The bells are currently unringable due to the poor state of the frame.
The treble and 3rd bells are by George I Oldfield during the Commonwealth period and the tenor is also by him using the B type capital letters. The 2nd bell is by Richard Mellours and would appear to be coeval with the tower erected in 1482 by Sir Richard Molyneux. The word-spacer is unusual and would appear to be an early example of such usage.