Hawton
All Saints
Monuments and Memorials
Medieval Monuments
Robert de Compton (Senior)
Under the tower is the stone slab (or casement) in which a brass of the first Sir Robert de Compton, who died in 1308, was set. The brass has been removed.
According to the Rev C. R. Manning (1888) the slab was found in the nave under the reader's desk during the restoration work of 1879-80 and along with other slabs moved to the tower. Manning provides further details:
'The matrix or indent of the fine monumental brass, that was formerly upon it, is tolerably perfect, the lower end being the most worn away. It represented a knightly figure in the cross-legged attitude, and the outline is sufficient to show that he was clad in a hauberk of chain mail, over which was a linen surcoat; a round coif de maille was on his head; his shield was hung on his left arm, and his sword crossed his body diagonally to his feet. There were two coats of arms below the lion or other animal, on which his feet appear to have rested, and another coat above his head. The slab is slightly coffin-shaped, and an inscription ran round the verge in separate letters of brass, of which the first and last parts are still very distinct; the middle part of the inscription is obscure. Beginning with a cross above the top shield, the words run thus:-
+ SIR ROBERD DE CUMPTON CHEVALER Q IADIS FV

SEINEOVR DE A

RVT E D EMAINS

EN LAN DOSTRE

SEINEONR M CCC. VIII.
The sense may conjecturally be supplied as follows : —
"Sir Robert de Cumpton, knight, who was formerly lord of the town of Hawton, departed into the hands of God in the year of our Lord 1308."'
This Robert de Compton is probably the father of the Robert de Compton whose effigy lies in the tomb recess in the chancel.
Robert de Compton (Junior)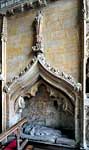 The effigy laid in an elaborately carved recess is believed to be of Sir Robert de Compton.
See the Fixtures and Fittings section for a full description and photographs.
Robert de Gunthorpe

A stone slab near the north door bears an inscription in Lombardic capitals:
ROBERT DE GUNTHORPE GIST ICI,
DE SA ALME DEUS EVT MERCI
Indents in the slab show that there were originally brasses of two kneeling figures and a shield of arms. The brasses have disappeared.
Wall Monuments
There are several mural monuments to members of the Holden familiy on the north wall of the north aisle.
Alexander Holden (died 1769) and Family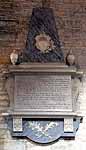 To the Memory of
ALEXANDER HOLDEN Esqr third Son of SAMUEL and MARY HOLDEN,
of Aston upon Trent in the County of Derby, who by an Assiduous
and Successful Application to Business, having greatly Improved
the small Fortune of a younger Brother; was enabled to retire
early in Life to the enjoyment of an Estate which he purchased
in this Place; and Died at Newark the place of his Residence
May 1st 1769, in the 89th Year of his Age.
Here likewise are Deposited the Remains of
MARY; daughter of ROBERT and MARY ATKINSON of Newark;
who was Wife of the above ALEXANDER HOLDEN
and Died Novr 12th 1745, in the 46th Year of her Age.
Also
MARY, daughter of the above ALEXANDER and MARY HOLDEN
who Died January 11th 1747, in the 22d Year of her Age;
and ATKINSON HOLDEN their second Son who Died in his Infancy.
Robert Holden (died 1808)

Near this place are deposited
the remains of
ROBERT HOLDEN ESQR.
who died the 25th of April 1808
in the 86th year of his age.
His long life was one continued scene
of Goodness, Philanthropy and Piety.
Whilst he lived, he acquired universal
respect;
his death called forth the regret of all.
In conformity to the dictates of truth,
and in token of gratitude and affection,
this Stone is inscribed by his cousin
ROBERT HOLDEN
Robert Holden (died 1872)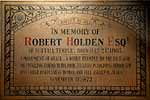 IN MEMORY OF
ROBERT HOLDEN ESQR
OF NUTTALL TEMPLE, BORN JULY 24TH 1805.
A MONUMENT OF GRACE _ A NOBLE EXAMPLE TO THE RICH AND
AN UNFAILING FRIEND TO THE POOR. HE LIVED IN HOLINESS BEFORE GOD
AND GREAT USEFULNESS TO MAN AND FELL ASLEEP IN JESUS
NOVEMBER 11TH 1872.
The Rev Alexander Atkinson Holden (died 1882)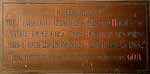 IN MEMORY OF
THE REVEREND ALEXANDER ATKINSON HOLDEN OF
NUTTALL TEMPLE, FOR 7 YEARS RECTOR OF THIS PARISH.
BORN MARCH 29 1809, DIED SEPTEMBER 23 1882.
BEING JUSTIFIED BY FAITH WE HAVE PEACE WITH GOD.
Millington Warren Holden (died 1829)
At the east end of the north aisle, on the south wall:

IN MEMORY OF
MILLINGTON WARREN HOLDEN,
FIFTH SON OF ROBT HOLDEN ESQ.
OF NUTTALL TEMPLE
IN THIS COUNTY.
BORN MAY 31ST 1816,
DIED SEPBR 20TH 1829.
Floor Stones
There are several floor stones in the tower floor:

Sacred
to the Memory of
WILLIAM, Son of
WILL and ANN DEEPING
who died Dec … 6 r
?1786
Aged 1 Year & 2 Months
Robert Waldron, rector of 'Houghton juxta Newarche', died of natural causes on 13 June 1697:

Here …. Ye bo[dies]
OF Mr Robt Wal[dron]
Late Rector …
Church …
Mary His Wife 29 Dec…
Children
Isaac 16 …1692/3
IOHN 14 P 1694
EDWARD 8 P 1…97
Fulk 7 ………
Elizabeth 18 AP …1703
A stone slab with a coat-of-arms but no visible inscription.
A small brass plaque to John, fifth son of Thomas Halgh:
Also under the tower is a floor stone with a brass plate in memory of Anne Bowling who died in 1790.
Nearby is a floor stone in memory of William Deeping who died in 1835 and his daughter, Mary who died, aged 4, in 1825.
In the north aisle there are floor stones to the Holden family: Alexander (d1769) and Mary (d1746).

In
Memory of
MARY Daughter of
Alexander and Mary
Holden Died the 11th Jany 1716
In the 22d Year of her Age.
Floor stones in the south aisle are to Mary (d1791) and William Sampey (d1791) and John Deeping (d1794):

To the Memory of
MARY the Wife of
WILLIAM SAMPEY
who died Nov 10th 1791
Aged 17 Years.

Also to the Memory of
WILLIAM SAMPEY
who died August ? 1800
Aged 59 Years.
There are other floor stones in the south aisle but they are too worn to identify.
Robert Thoroton, writing in the 1670s, recorded several monument inscriptions that have not survived:
'In the Church there was upon a Marble Stone cut in Brass.
Of your Charitie pray for the Souls of Degory Adys, Knight of the Sepulcre and Marchaunt of the Stapull of Clays, and Dame Anne his Wife, Daughter of Thomas Powtrell, Esquire; the which Degrory Deceased 27 Febr. 1521. Upon it is Arg. a Bull sable; Horned Or, amongst long Reeds Or, the tops sable; and by it, Or a plain Crosse between four Croslets Gules, the first impales with Arg. a Fesse between three Cinque-foils, Gules, Poutrell.
In the Brass of another Stone.
Of your Charitie Pray for the Soules of William Molyneux, and Margaret his Wife, their Childrens Soules, and all Christians Soules; which William departed this present Life the last Day of Octob. 1541. There is Molyneux Arms with a Crescent.
In the Chancel on a Piece of Brass, upon a little plain Stone was, Of your Charity Pray for the Soules of Robert Molineux, Esquire, and Dorothy his Wife; which Robert Deceased 13 Apr. 1539.'