Hawton All Saints
War Memorial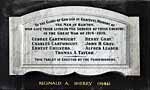 The war memorial is situated on the wall between two windows in the south aisle. A black rectangular slate block some 5cms thick, it is surmounted by a white marble block which bears an inscription. The marble is of a similar thickness. The inscription reads:
TO THE GLORY OF GOD AND IN GRATEFUL MEMORY OF
THE MEN OF HAWTON
WHO GAVE THEIR LIVES IN THE SERVICE OF THEIR COUNTRY
IN THE GREAT WAR OF 1914-1919
GEORGE CARTWRIGHT.
HENRY GRAY.
CHARLES CARTWRIGHT.
JOHN H. GRAY.
ERNEST CHILVERS.
ALFRED LEADER.
THOMAS A. TAYLOR
THIS TABLET IS ERECTED BY THE PARISHIONERS.
Below, on the slate block, in gold lettering, the name has been added:
REGINALD A. SHERRY (1944)
On a desk close by there is a file recording information about each of the men mentioned on the War Memorial.