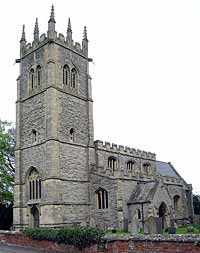 Hawton
All Saints
Newark Archdeaconry
Newark and Southwell Deanery
Introduction
Little more than two miles south of Newark, and near the little river Devon, the tower of Hawton's All Saints Church, with its eight pinnacles, can be seen from some distance across the fields. The oldest part of the church, the north arcade, is 13th century, the south arcade is early 14th century whilst the clerestory and the tower were built in 1482 at the expense of Sir Thomas Molyneux. The church was restored by Charles Hodgson Fowler in the 1880s.
The existence of a comparatively large church containing high quality carvings in such a small village is something of a mystery. Some authorities have surmised that the masons who built the chancel with its magnificent Easter Sepulchre, sedilia and great east window may also have worked on Southwell Minster and that the plan for Hawton was for it to become a collegiate foundation.
Pevsner described the chancel as: "One of the most exciting pieces of architecture in the country."
The name Hawton (Holtone or Houtune) means a settlement in a hollow, or alternatively a dwelling in a wood.
Particular thanks to Anita Maunsell for research on this entry,
and to Bill and Jane Paulson and Geoff Buxton for photographs