Hawton All Saints
Glass

The east window
The grand east window dating from around 1330, is one of the glories of Hawton. It has seven lights below curvilinear tracery and is fine example of English Gothic.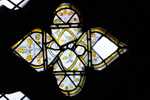 Fragment of old
stained glass
The only window to retain some of its medieval glass – leaves and acorns - is the one partly obscured by the organ.
At the east end of both the south and north aisles are windows of the Geometrical period.
Apart from the small section of medieval glass, there is no other stained glass in the church.