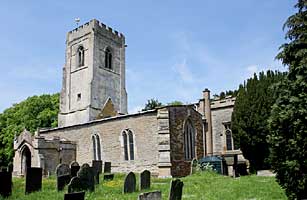 Hickling
St Luke
Nottingham Archdeaconry
East Bingham Deanery
Introduction
A beautiful medieval and later church in the heart of the picturesque village situated on the Grantham canal at the edge of the Vale of Belvoir, St Luke's boasts numerous interesting features spanning the centuries. These include the restored, highly carved 10th century Anglo-Saxon coffin lid once described as 'the most perfect and valuable pre-Norman work of its kind in England', and an impressive 14th century cross slab, one of the finest in the county, built into the west wall of the south aisle.
The south door has 13th/14th century fine foliated wrought ironwork. As well as 18th century graffiti the door also has several holes (now filled) through which muskets were allegedly fired during the English Civil Wars.
Other outstanding features include the 1685 Poor Box; the piscina and aumbrey; the font (dating from the 1400s, restored in 1840) with its 1665 cover; the 1840 Bryceson organ; and the memorial brass of Ralph Babyington, rector of Hickling 1515-1521.
The chancel was rebuilt in 1845, the tower was heavily restored and largely rebuilt in 1873 and there was a general restoration of the church in 1886.
The graveyard has views across the Vale and has excellent examples of the famous Belvoir angel gravestones.
Particular thanks to Christopher Granger and Dr Chris Brooke for research on this entry and to
Geoff Buxton and Christopher Granger for the photographs.