Hickling
St Luke
Monuments and Memorials
Chancel
Monuments commemorating former rectors Henry Morris and J Thomas Jordan which grace opposite walls in the present chancel and the gravestones of Francis Bedford, another rector, and Richard Coke, one time curate of the parish, on the floor near the altar rails were transferred from the previous chancel.
North Wall
A monument to the Rev Henry Morris, rector of Hickling, (died 4 August 1774) and his two sisters: Mrs. Alathea Morris (died 5 May 1769) and Mrs. Barbara Dujon (died 12 May 1777):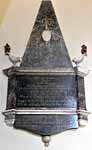 Be this Marble
Sacred
To the Memory
Of a Brother and Two Sisters:
Who Liv'd in this Parish universally Beloved,
And Died Lamented by all,
Especially by the Poor,
Who most sensibly felt the Loss of Them.

Happy the Few who wear away their Span
Of Life in Works of Love to God and Man.
They were Buried near this Wall, namely
M

rs

Alathea Morris

May 5, 1769

. . Aged 62

Henry Morris, B.D.

Rect of this Parish

Aug 4, 1774

. . . . . . . 62

Mrs Barbara Dujon

May 12, 1777

. . . . . . . 67
Francis Ashmall, rector of Hickling 1905-27, died 5 May 1948: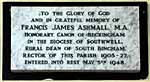 TO THE GLORY OF GOD
AND IN GRATEFUL MEMORY OF
FRANCIS JAMES ASHMALL, M.A.
HONORARY CANON OF BECKINGHAM
IN THE DIOCESE OF SOUTHWELL,
RURAL DEAN OF SOUTH BINGHAM,
RECTOR OF THIS PARISH 1905 – 27,
ENTERED INTO REST MAY 5TH 1948.
Thomas Skelton, rector of Hickling 1883-1905, died on 11 March 1915: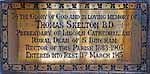 TO THE GLORY OF GOD AND IN LOVING MEMORY OF
THOMAS SKELTON B.D.
PREBENDARY OF LINCOLN CATHEDRAL, AND
RURAL DEAN OF S. BINGHAM.
RECTOR OF THIS PARISH 1883-1905.
ENTERED INTO REST 11TH MARCH 1915.
South Wall
Edward Anderson, died 6 January 1843 aged 58 years:

Edward Anderson B. D.
xxii years Rector of this Parish
died Jany v, mdcccxliii;
Aged lviii Years.
This is a faithful saying, and worthy
of all acceptation, that Chris Jesus came
into the world to save sinners; of whom I
am chief.
i Tim: i Chap: xv Ver.
Catherine Fleming Anderson, died at Hickling Rectory on 22 July 1835, aged 70 years:

TO THE MEMORY OF
CATHARINE FLEMING ANDERSON,
WHO DIED AT HICKLING RECTORY
JULY 22ND 1835,
AGED 70 YEARS.
"THE ETERNAL GOD IS THY REFUGE: AND
UNDERNEATH ARE THE EVERLASTING ARMS."
DEUT: 33. 27.
Rev. William Henry Walker, B.D., Rector of this parish, died 21 January 1857, aged 60: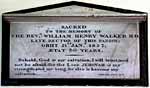 SACRED
TO THE MEMORY OF
THE REVD WILLIAM HENRY WALKER B.D.
LATE RECTOR OF THIS PARISH;
OBIIT 21ST JANY 1857;
AETAT 60 YEARS.

Behold, God, is my salvation; I will trust and
not be afraid: for the LORD JEHOVAH is my
strength and my song; he also is become my
salvation.
ISAIAH, XII C, 2 V.
Directly beneath is a plaque commemorating the rebuilding and furnishing of the chancel (1843-45) by the Rev William Walker:
Elizabeth Cromp, died 10 Cal. October [22 September] 1803, aged 77 years: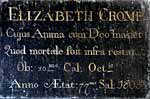 ELIZABETH CROMP
Cujus Anima cum Deo manet
Quod mortale fuit infra restat.
Ob: 10

mo

Cal: Oct

is


Anno AEtat: 77

mo

Sal: 1803

so
John Thomas Jordan, Rector of the parish, died 23 December 1820, aged 72 years, and Elizabeth, his widow, died 13 November 1826, aged 67 years:

SACRED
TO THE MEMORY OF
JOHN THOMAS JORDAN, B.D.
LATE FELLOW AND TUTOR OF
QUEEN'S COLLEGE, CAMBRIDGE,
AND 23 YEARS RECTOR OF THIS PARISH,
HE DIED ON THE 23RD OF DECEMBER, 1820,
AGED 72 YEARS.
ALSO
TO THE MEMORY OF
ELIZABETH,
RELICT OF THE ABOVE
JOHN THOMAS JORDAN,
SHE DIED ON THE 13TH OF NOVEMBER 1826,
AGED 67 YEARS.
George Jordan, son of the Rev. Richard Jordan, and nephew of the Rev. I. T. Jordan, died 25 January 1810, aged 19 years:

SACRED
TO THE MEMORY OF
GEORGE JORDAN,
LATE UNDER GRADUATE OF
SIDNEY SUSSEX COLLEGE, CAMBRIDGE,
SON OF THE REVD RICHARD JORDAN,
AND NEPHEW OF
THE REVD I.T. JORDAN,
HE DIED AT HICKLING
ON THE 25TH OF JANUARY, 1810,
AGED 19 YEARS.
The 'Vaux tombstone'
Also in the chancel is a 16th century effigy base which was discovered in the churchyard in 1983 and moved into the church in 1999.
The raised inscription around the sides is in Latin which can be translated as 'Here lies William Harrowden on whose soul may God have mercy. Amen.'
The inscription refers to William Vaux, 3rd Baron Vaux of Harrowden.
Anglo-Saxon Grave Cover
In the chancel is a pre-Conquest grave cover (see Archaeology for further information).
The Babington Brass
In the chancel floor is the memorial brass of Ralph Babington, the rector who died in 1521. This is one of the finest examples in the East Midlands and only one of two ecclesiastical brasses in Nottinghamshire.
| | | | |
| --- | --- | --- | --- |
| Babington brass | Detail of figure | Larger of the two inscriptions | Rubbing (1907) |
Rory Naismith (2009) has transcribed and translated the inscriptions. The small scroll reads:
Calicem salutaris accipia [et] nome[n] d[omi]ni invocabo
(Psalm cxv.13: 'I will receive the cup of salvation and call upon the name of the Lord').
The larger scroll reads:
Orate p[ro] a[nim]a mag[ist]ri Radi Babyngton filii Thome Babyngton de Dethyk in com[itatu] Derb armig[e]r in decretis bacularii quondam rector de Hyklyng qui mansu[m] rectorie ejusdem de novo re[staur]arauit et plura edificia de novo construxit, et obiit xxix die Augusti a[nno] d[omi]ni M xxj post Septimum annum regiminis sui cuius anime propicietur deus. Amen
('Pray for the soul of of Master Ralph Babington, son of Thomas Babington of Dethick in county Derby, knight, bachelor and sometime rector of Hickling, who restored anew the house of that same rectory, and built many more new buildings, and died on 29 August in the year of our lord 1521 after the seventh year of rule of he [Ralph] to whose soul God may show mercy. Amen').
Floorstones
The Rev Richard Coke (died 9 December 1724 aged 25):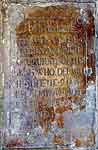 HERE LIETh
THE . BODY . OF . THE
REVEREND . M

R

RICH

D


COKE . CURATE . OF . THIS
PARISH . WHO . DEPARTED
THIS . LIFE . THE . 9

TH

. DAY
OF . DECEMBER . IN . THE
YEAR . OF . OUR . LORD
1724 . AND . IN . THE . 25

TH


YEAR . OF . HIS . AGE.
Francis Bedford (died 22 December 1720 aged 65):

DEPOSITU
FRANCISCI BED
FORD STI[...]
HUJ AECCIl[...]
RECTORIS [...]
22 DIE SEP[...]
ANNO DOM
1720 AETAT 65
South Aisle
In the centre of the south wall of the south aisle is a brass plaque to Mabel March who died 23 July 1930: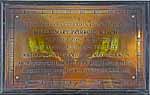 TO THE GLORY OF GOD AND IN LOVING MEMORY OF
MABEL MARY PRIMROSE MARCH
WHO DIED 23RD OF JULY 1930,
THE ELDEST DAUGHTER OF THE LATE
WILLIAM RIPPON BROCKTON AND MARY BROCKTON,
OF FARNDON, NEWARK,
AND WIDOW OF WILLIAM FREDERICK MARCH OF THIS PARISH,
THE THREE SURVIVING SISTERS HAVE PLACED THIS TABLET HERE.
Medieval Cross Slab
A fine 14th century cross slab is built into the external face of the west wall of the south aisle. See the Archaeology section for further information.