Hyson Green
St Stephen
Features and Fittings
Chancel
Altar and Reredos
The present oak reredos and Holy table were dedicated on the 24th May 1979, to replace those destroyed by fire between the 15th and 17th August 1977. The woodwork was designed by John Whitehorn, the work undertaken by T Edson and Sons of Plumtree, and the carving of the Alpha and Omega, the dove, and the cup and paten, was completed by Mr Ron Walker.
| | | | |
| --- | --- | --- | --- |
| Detail of the carving on the Reredos | The Altar Table, showing the carving | Detail of the carving on the Altar Table | The former altar and reredos, destroyed by fire in 1977 |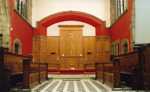 The east end, showing the
altar, reredos and choir stalls
Choir stalls
The choir pews erected by a friend of the Betts family in 1906, were given in memory of Tom Betts who died in 1903.
Wooden Font
A portable wooden font presented to the church in 1968.
Nave
Pulpit
The Pulpit is made of Caen stone and was presented to St Stephen's Bunkers Hill in memory of Samuel Middleton in 1881, before being transferred to Hyson Green. In the centre is carved IHS, and between the marble pillars of the other four panels are symbols that represent the four evangelists.
West End Screen
Designed by Royle and Whitehorn and erected in 1980 to create an area for social gatherings.
Lesson Board
The Lesson Board was given in memory of Florence Wand, wife of long serving chorister Bill Wand.

Plaque (beneath a speaker),
acknowledging the donation
of the sound system
Sound System
A sound reinforcement system dedicated in January 1972, was given in memory of Miss Emma Tebbot Nixon, a long serving Sunday School teacher. The system is no longer in use.
South Aisle
Lectern
The oak lectern in the form of an eagle, was given in memory of Henry McDonald who was a curate at St Stephens Bunkers Hill, before going out to Africa, where he died in 1878.
Stone Font
The stone font, also from St Stephen's Bunkers Hill, dates from 1891 and was given in memory of Samuel Taylor Thraves. The wooden top was given as a memorial to George Francis Cooper who died in 1897.
Screen
At the east end, the oak memorial screen was erected in memory of Vernon Fisher, a sidesman and Sunday School teacher.