Hyson Green St Stephen
Glass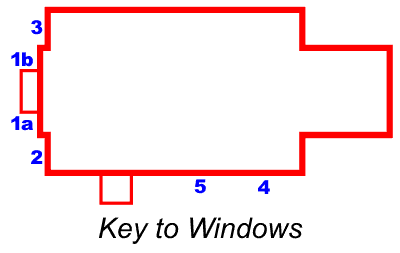 West window, left-
hand main light
West window, right-
hand main light
Detail of inscription
on right-hand main light
Showing the structure
of the whole west
window, including the
large central buttress
1

West windows - Central two main lights

In memory of William Henry Hutchinson of Basford - died 1807
1a

The baptism of Jesus

Dedicated by Elizabeth his wife
1b

The transfiguration of Jesus

Dedicated by his children
3

West window - North aisle
Jesus received in the Temple by Simeon and Anna
In memory of Edwin Denman, Churchwarden at Bunkers Hill for 18 years - died 1898
The central two lights
of the four-light
Ruth window
Inscription at the
bottom of the
right-hand light
Angel figure at the top of the right-hand light
(There is a similar angel figure in the left-hand light)
4

East end of nave south wall
Ruth gleaning in the fields
In memory of Laura Martin (d. 1943) whose ashes are interred under the window. It was dedicated on Palm Sunday, 14th April 1946. Her ashes were interred under the window at the request of her husband Albert Edward Martin of 120 Gregory Boulevard.
Central two lights of the four-light Ascension window
Angel figure at the top
of the left-hand light
Similar angel figure at the
top of the right-hand light
5

Middle of nave south wall
The Ascension of Jesus
Erected by past and present members of the congregation in memory of the first Vicar of St Stephens, Hyson Green, the Rev GD Gordon. Following his death in 1936, £58 was raised towards a memorial fund which, after much debate, was put towards a stained glass window. It was dedicated on Ascension Day 1938, the church's fortieth anniversary.