Kirkby-in-Ashfield
St Wilfrid
Churchyard
The original churchyard, lovingly cared for by St Wilfrid's parishioners over many years, was closed for burials in 1883 by an Order in Council signed by Queen Victoria. When the church was rebuilt after the fire, it was retained to the same size and shape.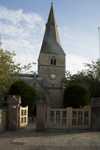 The current
entrance to
the churchyard
In 1953, new oak entrance gates were made and erected at the entrance to the churchyard. These had been presented by Mr and Mrs E Coleman. These remained in place for almost half a century until the present gates were hung.
By the authority of a faculty dated 19 August 1971, the headstones in the churchyard were straightened and realigned. This work was carried out by the Kirkby-in-Ashfield Urban District Council and the council undertook to maintain it thereafter. Churchyard furnishings and flowering trees were given by parishioners.
Although interments had ceased in the previous century, a Garden of Remembrance was established in recent times so that ashes could be interred.
Set into the churchyard wall is a tablet carrying the coat of arms of the former Kirkby Urban District Council. The tablet was removed prior to the demolition of the old council offices in April 1986 and given to the church for safe keeping.