Kirkby-in-Ashfield St Wilfrid
Organ

Organ pipes at
east end of the
north aisle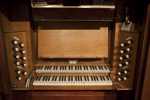 The organ console
In the wooden panelling at the East end of the Nave and near to the present organ, a small brass plate may be found. It carries this legend:
THIS ORGAN WAS REBUILT IN THE YEAR 1951 AS A MEMORIAL TO THE MEN AND WOMEN OF THE PARISH OF KIRKBY-IN-ASHFIELD WHO GAVE THEIR LIVES IN THE WORLD WAR 1939-1945 AND WHOSE NAMES ARE RECORDED IN THE BOOK OF REMEMBRANCE
The organ to which the plate refers was removed in 1963, by the authority of a faculty dated 17 October 1963 and replaced by a Model 357 CP Compton Electronic Organ. (The Book of Remembrance is still in the church.)
A further faculty dated 8 October 1970 gave authority for the installation of a pipe organ instead of the electronic organ. This replacement organ had originally been built by John Banfield in 1888 for a Congregational Church in Birmingham. It was installed and then rebuilt at St Wilfrid's by Henry Groves and Son of Nottingham. The two-rank mixture stop was added in 1973.
The specification of the stops is as follows:
Great

Mixture
19.22
Fifteenth
2'
Principal
4'
Wald Flute
4'
Dulciana
8'
Clarabella
8'
Open Diapason
8'

Swell

Oboe
4'
Cornopean
8'
Fifteenth
2'
Principal
4'
Voix Celestes T.C.
8'
Salicional
8'
Gedackt
8'
Violin Diapason
8'

Pedal

Fifteenth
4'
Principal
8'
Bourdon
16'
Open Bass
16'

Couplers

Swell to Great
Swell to Pedal
Great to Pedal