Morton St Denis
Glass

Windows in the
south wall
Nave
There are six identical windows, three on either side of the nave. The windows are of two lights and glazed with multi-coloured glass - green, amber, clear and violet – in a diagonal pattern with a rectangular border of rose. They were installed in December 1893 replacing earlier plain glass windows.
Apse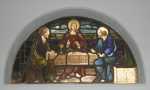 The window in
the apse
The east window in the apse is a lunette window depicting "The Supper at Emmaus" made by Heaton, Butler and Bayne, London, in 1934. The inscription reads:
TO THE GLORY OF GOD
& IN LOVING MEMORY OF
ELISHA JAMES WEBB
WHO DIED 23RD JULY 1928.
ERECTED BY HIS
DAUGHTER NANCY 1934
Elisha James Webb was churchwarden for many years.