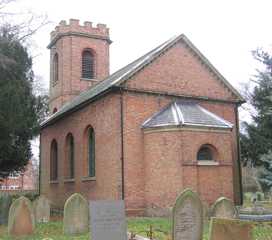 Morton
St Denis
Newark Archdeaconry
Newark and Southwell Deanery
Introduction
The present church dates from 1758, but records show that there has been a church in Morton since medieval times. Unusually, the church is dedicated to St Denis, variously spelled Denys, Dennis, Dionis or Dionysius, the patron saint of France (patronal festival: 9th October).
The village of Morton, which was mentioned in the Domesday Book, is located three miles from Southwell and today consists of about 62 houses, having virtually doubled in size over the last 50 years.
The parish extends to around 498 acres (just over three quarters of a square mile). Since 1982, St Denis has been part of a United Benefice with St Peter & St Paul, Upton and with Holy Trinity, Rolleston-with-Fiskerton. Until 1989, its patron was the Lord Chancellor, but that year the living was suspended, supposedly as a temporary measure, but it has never been reinstated.
In 1938 Arthur Mee noted that "Quiet little Morton has an ivied brick church". Since then, the ivy has been stripped from the walls, but the church remains a delightful building in a peaceful and lovely setting.
Particular thanks to Jo Blaney for research on this entry