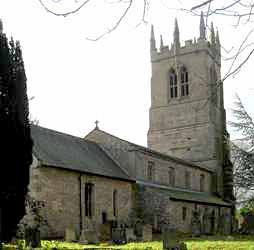 Rolleston
Holy Trinity
Newark Archdeaconry
Newark and Southwell Deanery
Introduction
Domesday cites a church at Rolleston. Some fragments of a Saxon cross-shaft were found in c1895 and a little herringbone masonry in the nave is pre-1066. The stone church now is partly Norman, including the tower base and south door.
It consists of a chancel, clerestoried nave of four bays, aisles, south porch and west battlemented tower with 8 pinnacles and 4 bells rehung in 1892, one dated 1628, others 1697 and 1778. The greatest interest of the building is its two arcades with 13th century pier shapes, a simplified form of Southwell chancel.
Lancet windows occur in both the south and north aisles and the north side of the chancel.
A broad low bell tower was added in the 14th century; there are two large two-light Perpendicular openings on each side of the top of the tower. The clerestory was added in the 16th century and the height of the nave roof prior to that is visible on the wall of the tower arch. There is a piscina and 17th century font.
The whole was restored in the 1890s by Hodgson Fowler, who was born at Rolleston where his father and grandfather were vicars.
Particular thanks to Julian Ellis, John Beckett, Chris Brooke and Peter Ryder for research on this entry
and to Julian Ellis and Chris Brooke for the photographs.