Rolleston Holy Trinity
Features and Fittings
Chancel
| | | |
| --- | --- | --- |
| The sanctuary | Altar rails | Piscina |
Altar rails: Laudian, appear to be much restored.
Six Legged Oak Table, reredos to match (not ancient).
Altar cross (Brass).
Brass candlesticks (pair).
Altar Crucifix.
A pair of turned wooden candleholders (made by John Canner).
An arched piscina with remnants of a pedestal piscina with scalloping.
Choir stalls, late Victorian.
Nave
| | |
| --- | --- |
| Pulpit | Chancel screen |
Oak pulpit, simple panelling with reading lectern (from Holy Trinity, Southwell). A perspective drawing of 1857 shows a carved canopy, but unfortunately this has at some time been removed, before the restoration of the nave, when all the old pews also were swept away and replaced by chairs.
Chancel screen – much altered. Lower half 15th Century, upper portion added during restoration work by Mr Hodgson Fowler.
Oak lectern with decorative hinged brass candleholders.
Priest's chair.
Two oak bookrests, one made and given by Mr S Dickenson, (churchwarden in 1956).
Tower arch screen of 1929 - made of Austrian oak.
Muniment chest, 17th Century, bottom bands missing.
Oak memorial table, given by Mr Harry Smith (died 16th November 1969) in memory of his wife Ruth.
Font
| | |
| --- | --- |
| Font | Font cover |
The present font dates from about the period of Charles II, the previous one having probably shared the fate that befell many others around Newark during its long siege in the Civil Wars of the 17th century. It is of stone, octagonal, lead-lined with a plughole. Previous to the restoration of the nave in 1895, it stood on the south side of the nave, immediately opposite the south doorway.
Its octagonal wooden cover dates from the 17th Century and was cleaned and decorated in 1971 as part of a memorial to Tom Sharp.
Pair of standard candlesticks (for use adjacent to the font) given by Mrs Hilda Sharp in 1971 in memory of her husband Tom (faculty refers).
A chest of drawers, reputed to have belonged to John Bunyan, was sold in 1995 for £250.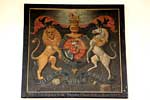 A painted Royal Coat of Arms over the tower arch, dated 1812. The inscription reads, at the top, 'Rev Charles Fowler, Vicar' and, at the bottom, 'Churchwardens Willm Cocking and Willm Wright'.
On the south wall, near the south door, is a brass plate that reads:
THIS ELECTRIC LIGHT
IS INSTALLED IN THE NAVE OF THIS CHURCH
BY
JOHN CULLEN
TO COMMEMORATE THE LONG RESIDENCE
OF HIS FAMILY IN THIS PARISH
1930
South Aisle
An interesting bowl of a Norman shaft-piscina was found in one of the walls during the restoration, and now stands in a niche in the wall of the south aisle.
Pewter Tankard
The church pewter tankard, commemorating the marriage of King Charles II to Catherine of Braganza, has been extensively researched by Steve Custons of the Pewter Society and published as 'The Earliest Known Commemorative Pewter Tankard?' in the Journal of the Pewter Society, Spring 2012.
The tankard is on display at the National Civil War Centre in Newark.
Further research on the tankard has been carried out and published on the Pewterbank website.