Rolleston Holy Trinity
Glass
Chancel

The east end window was inserted in 1878 by Gervase Wright in memory of his parents and depicts saints.
The inscription reads:
To the glory of God and in the memory of William Wright deceased 1822 and of Ann his wife deceased 1840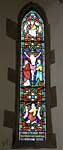 The lancet window on the north side of the chancel was inserted in 1858 in memory of the Reverend Robert Hodgson Fowler, a former vicar of the parish. It depicts the Resurrection.
Pevsner claims that this is by Kempe, but the Kempe Society states that it is more likely to be by a former artist of his, Herbert Bryans, whose work was very similar to Kempe's. It bears neither signature, Bryans' being a black greyhound.
The inscription reads:
In honour of the Blessed Trinity and in memory of Robert Hodgson Fowler vicar of this church MDCCCLVIII
North Aisle

There are also some inserts in a north aisle window. It has been suggested that these came from Southwell Minster, but they bear no resemblance to those described.